Cathy Kavassalis and Janet Mackey – Halton Master Gardeners
Congratulations! You've just bought a new home, but uh,oh…..there are some issues outside your door.

Here are some steps you can take to make your home landscape both beautiful and enjoyable
1. Safety Concerns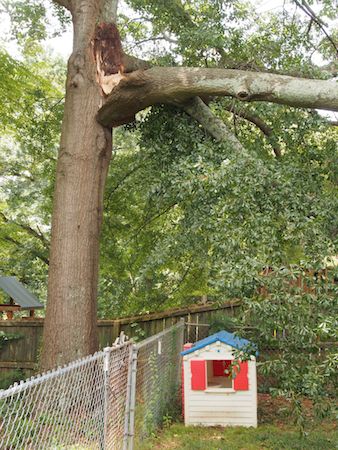 Does anything pose a safety hazard?
hanging tree branches
obstacles on pathways
foliage that blocks sight lines from sidewalks or driveways
crumbling retaining walls paths (tripping hazards),
drainage problems, or a blocked view of the front door.
plants that may pose a threat to family (i.e., poison ivy) Info. on Common Toxic Plants
CONTACT a professional if needed, such as an ISA Certified Arborist or through Landscape Ontario
2. Identify
Identify the existing trees, shrubs and perennials – use flagging tape to identify problems, needed pruning or inspection by professionals
Examine plants to see if they are healthy and uncrowded. Mark with flagging tape.
If you notice disease problems, determine whether they are due to environmental conditions, such as compacted soil or poor air circulation, that could be remediated over time
Mark drip lines of trees you wish to retain as they'll need special attendtion (ie., for weed removal or special planting/maintenance plans).
Mark perennials you wish to keep. If the area is overrun with weeds or is too crowded, lift plants and place in a pot to be set aside and planted later once the garden area is prepared. It's best to do re-planting when weather temperatures are moderate (i.e., spring and fall).
3. Remove and Cut Back
Remove any invasive species like buckthorn, white mulberry, Norway maple seedlings etc., as permitted by your municipal bylaws. Become familiar with the invasive plant lists in Ontario.
ONTARIO INVASIVE PLANT COUNCIL
Credit Valley Conservation – PRIORITY INVASIVE PLANTS
Cut back any weeds/invasive species that may go to seed creating a weed seedbank, such as garlic mustard, goutweed. Digging and pulling some of the larger weeds is advised. Some will regrow from root fragments. Try to clear as much of the yard either by pulling by hand or with tools, or cutting close to the ground as possible.
NOTE: Always work from the outer edge of the invasive plants, then inwards.
GROW ME INSTEAD -Beautiful Non-Invasive Plants for Your Garden
Sheet mulch the areas for restoration, avoiding the areas under trees and shrubs as you do not want to interfere with gas exchange for root growth or damage the soil structure. You can use leafbags for this purpose (opening them up for greater coverage) or you can buy rolls of Biodegradable Paper Mulch, etc. On top of the sheet mulch add several inches (4-8″) of arborist wood chips. Add several inches of mulch also in those areas you plan to add potted perennials for greater weed suppression, but not where lawns or plants are going to be started from seed.
More about ARBORIST WOOD CHIPS as mulch
Tackle the areas under trees and shrubs by hand. Remove as much of the problem plants as you are able and use four to six inches of a coarse mulch – arborists wood chips. This will allow the soil to breathe but will help suppress weed growth. This is very general method. You may have plants which require special care or management techniques.
4. Turf Grass
First, do you need the turf grass that's there? Perhaps it could become a beautiful garden area, a water feature, sitting area or pathways. Turf does not have much going for it environmentally speaking, except sometimes it's necessary for those that require an area for outdoor activities…..but do you really? Do the kids really toss the ball back there or do they go to the park? Does Rover enjoy soaking up the sun on the grass or prefer a walk? Re-evaluate your lawn areas and decide what you really need. You may want to read the article 'How to Break-up With Your Lawn'.
Look closely at your lawn:
Is there an apparent problem with disease or weeds? How difficult is the terrain to mow? Is there too much lawn or not enough? Here are some common issues:
Thatch accumulation
Weeds have infested the lawn
Disease damage
Insect damage
Excessive use
Poor maintenance
Winter injury/Drought injury
Soil compaction
Poor drainage
Grasses in lawn not suited to the growing conditions
Where the amount of injury is small and a large proportion of live grass remains in the injured areas, raise the mowing height to 5 cm, increase the number of fertilizer applications (as many as five or six, starting early April and ending mid September), and increase the frequency of irrigation to stimulate the lawn into rapid growth to heal the damaged areas.
For immediate results, spot sodding can also be done to repair areas of the lawn
Some weed problems can be corrected by digging them out. ( i.e., orchard grass, tall fescue)
Raking the area and reducing the watering frequency may assist in reducing the bentgrass
Increasing fertility and maintenance of the lawn, you may be able to crowd out quackgrass.
Turf which is compacted and thinned from mode foot traffic may be improved through the use of equipment such as a core aerator.
Overseeding can help establishing new turfgrass plants by seed without disturbancing to the existing grass. Success is dependent upon placing the seed in contact with the soil and irrigating frequently enough to prevent drought stress of the seedlings. Further directions are included in the link below
5. Map It Out!
Call to identify the location of underground services before you dig – Ontario One Call
Consider obtaining an official survey completed by a professional so that you're aware where your property lines are as well as which trees and shrubs belong to you. Association of Ontario Land Surveyors
Avoid damaging the root systems of existing trees by digging too closely to them or compacting soil with heavy equipment.
Check local municipal regulations about planting near streets and sidewalks, heights and sizes of fences and structures, setback requirements as well as and any specific requirements for water features.
Visit your municipal website to locate their maps (This would be in lieu of or in addion to a survey). You can obtain the property measurements, orienation, size and shape. Alernatively, you can use Google Maps to roughly map out your property with the measurement tools and using screen shots.
6. Organize & Plan
Note light conditions at different times of the day and moisture levels in the soil.
Create a scaled map of your property on graph paper.
7. Soil
Plants are very often suited to specific types of soil. In the past, advice was provided on how to alter your soil. This is no longer advised. You'll have the healthiest garden based on choosing plants suited to the soil and growing conditions. Get to know your soil type by doing the ribbon test.
8. Design
Who is going to using this landscape? (i.e., visitors coming to the front door, children playing in the backyard, entertaining friends on the patio, exercise area for the family pet, vegetable gardens etc.)
List the main landscape areas and decide the size and location of each part.
Explore the pros and cons of materials to be used for surfaces (i.e., turf grass, ground cover, stone etc.)
Identify viewpoints (i.e., usually you'd like your front door seen from the street or drive), perhaps you're lucky enough to borrow a view of a nearby landscape feature (ie. a lake, hillside, a beautiful forest).
Identify areas where privacy will be needed and how that will be achieved (i.e., trees, hedge, privacy panels etc.)
9. Plants
Begin to identify plants that you may want to include over time in your landscape. Try to see the plants not just in a nursery, but growing in another landscape so that you're familiar with its growth habit and size.
Native Plants for Small Landscapes
Review carefully the mature size of trees and shrubs, placing them far enough away from structures, hydro services and fence lines.
Consider creating habitat that includes KEYSTONE PLANT SPECIES and HOST PLANTS that can support the larvae of butterflies and moths. These little creatures also become essential food for baby birds. Speaking of birds, here are some excellent shrub suggestions.
10. ENJOY !
After you've made changes in your landscape, remember to take pleasure in it. Disappointed in what you see? That's all right; you can change it again. Most gardens are a work in progress. The important thing is for you and your family and friends to be out there enjoying it!